Agency owner, Gert De Groot, who has been working in the digital sector for over 20 years, tells us how uSkinned Site Builder has changed their company processes for the better.
Working with its own in-house CMS for over 20 years, Landstra De Groot was more than happy with its capabilities. However, in the rapidly changing world of web development and content management systems, they found that as a small company, it was becoming more and more difficult to keep their own CMS up to date.
Instead, in order to keep up with security features, a user-friendly interface and stay in line with the latest technologies they might need to look at a tried and tested off-the-shelf solution.
uSkinned has changed our working process. It is now possible for us to cut the workload for our programmers, and a shift has taken place. Our content creators and our customers are happier because they can create on the fly.
Discovering Umbraco, they were pleased to find that the feel of the CMS was in a similar spirit to their own in-house CMS but admittedly since Umbraco is an empty shell upon the first installation they would need to work with a starter kit. A variety of starter kit solutions for Umbraco were investigated but although they "met some of our demands, we were not yet satisfied" that any of these would be able to replace their own in-house CMS.
That is until they were introduced to uSkinned Site Builder after it had won the award for "Best Theme" at the Umbraco Awards.
I love uSkinned. Our content creators love uSkinned and most importantly, our customers love uSkinned.
Landstra De Groot has since changed their working process and is committed to working with uSkinned Site Builder as its go-to CMS solution for all clients. Working with uSkinned has not only helped cut the workload and demand on their development team but it has improved the lives of their content team and their clients couldn't be happier. 
The range of components, pods, settings and design options available in the back office as well as the user-friendly and intuitive interface on offer in uSkinned Site Builder assists their clients in creating better websites. As Gert De Groot puts it himself, "Content is king and uSkinned provides the perfect tool".
We'll now hand things over to Gert, as he walks us through some of their recent uSkinned-powered website projects.
Ecommerce, Sports equipment
Sporttarget
A website with 3 languages, 5 supporting landing pages and a total of 8 linked domain names. Including 1 design and 5 different Global settings. An Ecwid eCommerce webshop is also linked. In short, a complete website with 1 login with which full management is possible.
It started with a brainstorming session with the customer in which wishes and ideas were expressed. This resulted in an action plan. A house style has been developed, a logo has been designed, and a sketch has been made of a possible end result. After the customer's approval, the Umbraco/Uskinned system was prepared by the programmer.
After this we could easily build the website and start filling content. Especially the last step in the process is a clear improvement over other CMSs. By using Uskinned, anyone can easily add content. The marketing plan, which was also written by us, could be executed by both our agency and the client.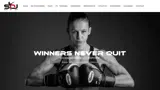 This world champion Kickboxing Bantamweight needed some help. We provided Sarèl de Jong with a logo, brand and website. Now sponsors are connecting with this power girl. Sarèl is posting her Blogs with Umbraco/Uskinned with ease.
Construction
Arno's Dakramen
Arno is a builder. He builds new skylights and dormers. Online, we build a brand-new Umbraco/Uskinned website. Did the branding and marketing. Started a couple of Google Ads campaigns. The results are amazing. Fully booked in 2022 and the first half year in 2023. We had to stop the campaigns since Arno told us it was too successful.
uSkinned is the whole package. Blocks, pages, navigation, endless possibilities in settings, adding CSS or scripts. And, it's all user-friendly, uSkinned helps you create content.
Rate the content editor experience in uSkinned Site Builder
5 out of 5
The biggest benefits of uSkinned for Umbraco
 Saved development time
 Increased development capacity
Describe uSkinned in as few words as possible
Content is king and uSkinned provides the perfect tool.