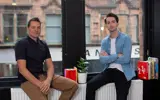 uSkinned co-founders Marc Love (left) and Paul Daly (right).
uSkinned is brought to you by a Umbraco Gold Partner agency and has been built by Umbraco Certified Masters & Core Contributors, designers and developers who share a passion for providing the most flexible and functional CMS solutions. Whether you're a website noob or a large enterprise, uSkinned is committed to serving the needs of our clients and customers.
Since late 2014, our Starter Kits have helped thousands of people and brands succeed, including Ministry of Sound, Scottish Football Association, NHS, AXA, Sofology and many more. Our work is playing a major role in bringing Umbraco CMS to a wider audience and ultimately, helping it grow into one of the world's most popular content management systems.
With every installation, we've become known for our high standards and attention to detail from both a design and development perspective. And, it is this reputation that is helping us to become the world's go-to team for a first-class design and development partner. 
We're based in Glasgow, Scotland's largest city. If you ever find yourself in the area, swing by and say hello. And if you can't make it in person but still want to discuss an idea, feel free to get in touch.
Company Timeline
May
2023
Site Builder is an Umbraco Hall of Fame winner — our 3rd award!
April
2023
Site Builder 4.1 is released — includes new eCommerce integration.
December
2022
Site Builder 4.0 is released for Umbraco 11.
July
2022
Site Builder 3.0 is released for Umbraco 10.
June
2022
uSkinned Site Builder wins a second Umbraco Package Award!
March
2022
Site Builder 2.0 is released for Umbraco 9.
February
2022
uSkinned Hosted Websites BETA is made available to the public.
January
2022
uSkinned Experts BETA is launched — users from 14 countries sign up.
June
2021
uSkinned Site Builder wins an Umbraco Package Award!
March
2021
We retire all previous Umbraco 7 themes.
March
2021
The first release of uSkinned Site Builder for Umbraco 8 is released. 
January
2020
We release our first themes for Umbraco 8.
May
2019
Nominated for Best Editing Experience at the Umbraco Awards.
January
2017
Version 5.0 of our original baseline theme (Source) for Umbraco 7 is out.
August
2016
A major rebuild of the Source theme for the release of version 4.0.
June
2015
We stop releasing Umbraco 6 ready packages.
June
2015
We adopt Bootstrap as our frontend framework for Source theme 2.0.
November
2014
We launch uSkinned Themes for Umbraco 6 and 7.
June
2011
Our agency, Made by Crunch, starts its first project.