📣 Announcing 🥁
uSkinned Hosting
We've now started the initial public release of uSkinned Hosting, a platform that will offer the easiest and most affordable way to launch a uSkinned powered Umbraco website on Microsoft Azure.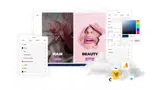 At uSkinned, we are committed to helping web professionals and novices alike, to launch better Umbraco websites with a consistent and flexible approach.
The Visual Designer, Modular Page Components, Layouts, Custom Theme Designs, eCommerce, Membership, Animation Effects — all of the features that we develop, we do so with this at the forefront of our mind. We want to simplify the website creation process, offering a consistent experience that lets you focus on what matters — building and launching a professional website.
Over the past year, we've been busy building a platform that offers the best and most affordable way to build Umbraco websites in one click, and best of all, it comes with the award-winning uSkinned Site Builder preinstalled.
We already have a number of early adopters on the platform, and now we would like to invite you to join them on uSkinned Hosting.
Why uSkinned Hosting
With every release or new functionality and feature, we've always set out to solve a question posed by the end-user. With uSkinned Hosting, we have made no exception, our goal is to offer the easiest and most affordable way to host uSkinned Site Builder on the latest version of Umbraco CMS.
With uSkinned Hosting, users will be able to enjoy all of the benefits Site Builder offers — Custom Theme Design, Modular Content Management, Integrations, eCommerce and support — backed up by reliable and secure hosting technology with Microsoft Azure WebApps.
We aim to streamline the process of setting up an uSkinned-powered Umbraco website. We do so by providing all of the awesome features already available with Site Builder, plus:
— Microsoft Azure Cloud Hosting
— Automatic Umbraco upgrades
— Automatic Site Builder upgrades
— SSL Certificate Security
— Global CDN
— Automated Backups
— 24/7 Support
— Ability to assign your own domains
— Website management portal (all of your sites in one place)
There is no need to purchase a domain license for Site Builder when you choose uSkinned Hosting — everything you'll need is available in one simple, monthly subscription.
Pricing starts at £25 per month, per site.
Content editor focused
We will develop uSkinned Hosting in tandem with our core product, uSkinned Site Builder. When we add new features or functionality to Site Builder, these are automatically added to all Hosted websites. The same goes for Umbraco upgrades.
Umbraco and Site Builder are preinstalled when you create a new website on uSkinned Hosting. We want to eliminate any barrier to website creation, uSkinned-powered Umbraco websites will always be one click away, meaning it will be as easy for a first-time user as it is for an expert. All you need to do is create your design and add your content — let us handle the rest.
In addition to this, we will never lock any user into our platform, if you wish to move to a different hosting service, a backup of your site can be created and exported for you at any time.
What's next?
In the coming months, we will launch a site management portal that will allow users to manage all of their sites in one place, including hostnames, redirects, account settings, usage data, billing, plus lots more. This is everything stress-free hosting should be.
In the meantime, if you would like to sign up for uSkinned Hosting, please use the form below and our team will be able to get you set up in no time.
Sign up to get started
Hosted uSkinned Websites
A full website with Azure hosting, SSL & uSkinned Site Builder.
Pricing starts at £25 per month, per site.