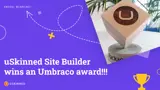 Codegarden (the official Umbraco Conference) was hosted virtually this year so we weren't able to attend in person but we're hoping we can next year. 
As always, Codegarden was the place to announce the Umbraco Award nominations and winners. After receiving a top 3 nomination for the past two years we were keeping everything crossed that our new product, uSkinned Site Builder for Umbraco, might get a nomination...
Well, at 9:30am (BST) today (11th June 2021) the Umbraco Package Awards were ready to be announced — this was a little different from previous years, in order to be in with a chance of winning each Umbraco package had to be nominated by Umbraco users and then from those nominations a panel of expert judges picked the winner for each category. And we're delighted to announce that thanks to our awesome users who nominated us...
Umbraco Package Award for 'Best Theme'
We'd like to offer a MASSIVE thank you to all of our users who nominated us, it really means a lot to know how much uSkinned has helped you launch Umbraco websites! And a big thanks to the panel of judges who selected us as the winner in our category.
Here's what the judges had to say: 
What a superb solution! There's so much customisation that can be done in the back office and with custom property editors it makes everything very simple and intuitive to use. Starting from one of the lovely themes you can build a really impressive looking site with no code. The design preview feature is fantastic too; when in preview mode you can edit the design using the sidebar and you can save the changes right from preview.
Let's hope we can all attend Codegarden in person next year and thanks again! :-)
Watch the awards again below — skip to 10:18 for us :)