We caught up with designer and content creator, Justin Byrne, to learn more about how Webcoda has adopted uSkinned Site Builder to "take Umbraco CMS to the next level".
As an experienced development agency, Webcoda is used to working with a variety of popular platforms, whether that's Kentico, Agility CMS, SharePoint or Umbraco. Each tool has its own merits but they believe (and so do we) that Umbraco CMS provides the best of all worlds. It's secure, easy to use, and offers a great selection of packages to assist with custom functionality.
The only downside, Umbraco websites traditionally require a web developer to get up and running — something a busy web agency like Webcoda can find difficult at times.
Projects which were perhaps unviable previously due to the time involved in setting up a fully custom site, are now possible in a fraction of the time, thanks to uSkinned.
Although the Webcoda team were generally happy with the "user-friendly and easy-to-use interface of Umbraco CMS", they knew they were in need of a boilerplate that would allow them to "kick-start every project". 
The perfect boilerplate solution would need to free up developer resources and enable their designers to set up and customise projects themselves, with minimal, if any, custom code. 
Truth is, the Umbraco CMS content editor experience is vastly improved by uSkinned Site Builder.
The adoption of uSkinned Site Builder as a boilerplate has meant projects that were once turned away were now possible "in a fraction of the time". For Justin and his design team, in particular, the ability to create complete design systems including layouts, colours, fonts and spacing settings that could adapt to any client's brand in real-time was a highlight. 
Additionally, the out-of-the-box on-page and site-wide SEO (search engine optimisation) features and analytics integrations are integral to ensuring their client's websites remain competitive. 
With uSkinned Site Builder in place as Webcoda's new "springboard" boilerplate, Justin added, "the importance of a consistent CMS editing experience can't be understated for onboarding new clients and facilitating training".
Moreover, the ability to adapt and change the functionality or styling of all sites using custom code, where necessary, without altering the core uSkinned functionality, means their clients can expand and evolve without restrictions.
We'll now hand things over to Justin, as he walks us through some of Webcoda's recent uSkinned-powered website projects.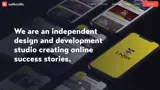 Digital agency website
Webcoda
We used uSkinned for our own digital agency website, as it allowed me and a fellow designer to create the website with very minimal input from our developers. We had full control over styling, layout, and heaps of modules available to customise the page content.
Had this been a custom Umbraco build, it would have taken much longer to produce, and tied down more in-house resources than what was possible with uSkinned. 
Out-of-the-box uSkinned came with enough modules and functionality for us to get the website up and running very quickly. We were then able to spec any custom functionality we needed, and plan custom implementations as required. For most content-heavy websites, uSkinned has all bases covered, but where we needed additional functionality, we certainly didn't feel restricted.
As an example, we wanted to include a filter for our projects, so a custom javascript solution was implemented to achieve this. Thankfully, the CMS editing experience was not compromised and this functionality can be rolled out into future implementations with minimal effort.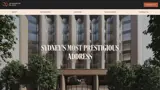 Property website
39 Martin Place
39 Martin Place is one of Sydney's most prestigious addresses, the website includes details from Investa Property Group about a new landmark and workplace that will soon be realised. The building is beautifully designed by the acclaimed Tzannes architectural studio. 
The project needs to be produced both timely and efficiently. uSkinned allows us to set up the website in a fraction of the time of what would be possible in a custom build, and with more customisation options in the content editor than most comparable builds of this scale. 
I worked on creating the theme for the project to set the look and feel, and a couple of template pages. A colleague was then able to complete the project and populate all of the content with ease - with almost no instructions on how to use uSkinned. 
For this project, we skipped the 'traditional' wireframe & design phase and worked on setting up a theme within uSkinned right from the start. This change of workflow enabled us to save heaps of hours, whilst still producing a very stylish and modern website packed with all the functionality you would expect.
uSkinned Site Builder is incredibly flexible in its approach!
Rate the content editor experience in uSkinned Site Builder
5 out of 5
The biggest benefits of uSkinned for Umbraco
 Saved development time
 Saved design time
 Saved money
 Increased profit
 Increased development capacity
 Increased customer base
Describe uSkinned in as few words as possible
A feature-packed starter kit that can produce content-centred websites in a fraction of the time, whilst being completely flexible and extendable when required.