More than a theme, the all-new uSkinned Site Builder is a game-changing product for Umbraco. Experience the full power of code, without ever writing it — but that doesn't mean we don't let you.
Every time we've set out to create a new piece of functionality, we've always hoped that it will solve a question posed by the end-user. With this new product, we have made no exception. 
There is a wide range of improvements we've made from our v2.x themes for Umbraco 8, however, this release dives deeper again and again. For instance, we've expanded on the success of our v2.x themes introduction of the Block List Editor and included more components, pods and settings than ever before. We've extended our multi-lingual support with an auto-generated language navigation option. And, we've introduced full Member Registration functionality complete with verification emails, but these only scratch the surface of what is now possible.
Above all though, the key piece of functionality that we're delighted to announce is our new Visual Designer. The Visual Designer gives you full control over your global site design, maintaining brand consistency throughout and allows you to create a global design system. This functionality can be split into four main parts; Layout, Colors, Spacing and Fonts. 
Layout
From a variety of header layouts to underlines on links and everything in between.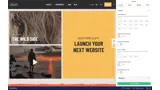 Colors
Create unlimited color palettes, add as many or as few color combinations as you need.
Spacing
Control the padding, margins, shadows, rounded corners and more to create a unique feel.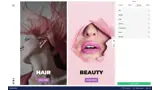 Fonts
Choose from over 1,000 fonts out-of-the-box thanks to our Google Fonts integration.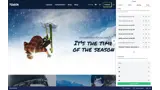 Take a full tour of the uSkinned Site Builder for Umbraco and read the extensive feature list.
---
With the release of our new product will come a variety of questions, so we've decided that the best way to clear things up is to format the remainder of this article as a question and answer session. If you have any other questions, please don't hesitate to leave a comment at the end or reach out to our support team at uSkinned.net/contact.
What is the uSkinned Site Builder? 
The uSkinned Site Builder is our baseline Umbraco Starter Kit — although, it's a lot more than just another Starter Kit. Based on the success of our previous releases we've created a content-editor focused experience designed to help everyone and anyone launch a new website with Umbraco.
What does it let me do?
Everything you could do in our previous products and a whole lot more. From modular content creation and integrating your favourite third-party providers to adding your own color palettes and fonts, you have all of the tools you need to launch a successful website direct from Umbraco. 
Can I still buy pre-designed themes?
Yes! Although you now have all of the tools to create your own 'Theme Designs' from the CMS, we are still offering professionally designed themes to help get you started even quicker. The important thing to note is, the Theme Designs are now separate to the uSkinned Site Builder, once you've purchased a particular Theme Design on one occasion you do not need to purchase it again. Instead, if you wish to use it on another site, you only need to purchase an additional Website License. 
View our available theme designs
Consider the following diagram to better understand how Umbraco, the uSkinned Site Builder and Theme Designs work together and what is required to successfully run a uSkinned website. 
Layer 1 — Umbraco (Required) 
Layer 2 — uSkinned Site Builder (Required) 
Layer 3 — uSkinned Theme Design
How do I get access to this new product? 
Well, firstly, you will need access to the uSkinned Site Builder. You can do that by either purchasing an Individual Website License or sign up as a new uSkinned Unlimited Member — if you are already an existing uSkinned Unlimited Member then you have instant access via your uSkinned account login uSkinned.net/login.
When you checkout you can choose from one of two options: 
Individual
includes:
— 1 x website license
— 1 x year access to download the uSkinned Site Builder Package
— 1 x year support of the uSkinned Site Builder Package
— 1 x year access to all theme designs
Reseller
includes:
— 5 x website licenses
— Additional website licenses at a discounted price for the duration of your Membership
— 1 x year access to download the uSkinned Site Builder Package
— 1 x year support of the uSkinned Site Builder Package
— 1 x year access to all theme designs 
Once you have established which of the three you are above, log in to your uSkinned account (uSkinned.net/login) and go to the uSkinned Site Builder section from the dashboard and download the latest version of the package. 
How do I create my own 'Theme Designs'?
Once you have access to the Site Builder package, download it and install it into the latest version of Umbraco 8. From inside the CMS you will now see the tree menu on the left-hand side, click on 'Designs'. Now on the right-hand side, click 'Create Design' and use the wide variety of options to start adding your own design touches.
Can I design in real-time?
Of course, you can use the Visual Designer interface to start designing your site in real-time. Go to any page in the CMS tree menu e.g. Home. Once on the page, in the bottom right click 'Save and preview'. A new tab will appear and your site will be shown, you'll note the addition of two new tabs to the right side of the viewport, one to control your design, the other to edit and preview content. 
Choose the paint bucket icon to open the Visual Designer interface and you'll have a fully customised design right before your eyes in real-time.
Wait, I'm a web developer, can I still extend the code for Site Builder?
Yes! We still provide the full source code in our downloadable package. You can extend the codebase to suit whatever your needs might be. 
We even have some guides about extending.
Is there a free trial available?
Yes! Sign up for a hosted free trial for you.
Can I still buy legacy uSkinned licenses?
Yes. We appreciate that although we are changing the concept of uSkinned a little, we know that a large number of our existing customers already have their own baselines based on our existing theme products. Therefore, existing customers can still purchase what we are now calling 'Legacy Licenses' & 'Legacy Themes' via the uSkinned account dashboard.
What's next?
Our next major milestone is to relaunch the uSkinned website. The site will be powered by the uSkinned Site Builder and use a custom design, just like any of our customers would use to create their own sites. The new site will be restructured to better explain our new product and concept, including a more detailed tour of features with videos and support guides. There might even be another little surprise coming to coincide with the launch of our new uSkinned website too… watch this space!
That's all for now, feel free to leave a comment or reach out to us directly through our website or via Twitter. If you really like what you've read, why not share this article on social media? :-)