How to add Mindbody booking platform
Embed Mindbody widgets on your uSkinned Site Builder website using one of the many embed code options provided.
Mindbody provides cloud-based online scheduling and other business management software for the wellness services industry — including Fitness, Spa, Salon and Integrative Health businesses.
Before we begin, we will assume that you (or your client) already have a Mindbody account. 
Create your Mindbody widget
Step 1
Login to your Mindbody account.
Step 2
Follow the steps in this guide and create one of the following embeddable widgets:
Appointment widget: Allows clients to search, purchase, and book/request appointments.
Class List widget: Displays each class separately with its own description and schedule. Clients can view the available times for that single class, then book or purchase a pass for the session of their choice.
Enrollment widget: Displays upcoming enrollments for up to 12 months ahead of time. Similar to the Schedule widget, but for enrollments.
Prospect widget: The Prospect widget creates an account for the client in MINDBODY and marks the client as a prospect. This is commonly used as part of a "Contact us" form when clients are interested in your services but have not yet committed to making a purchase.
Registration widget: Allows clients to sign up for a new account with your business directly from your website.
Schedule widget: Displays all classes (and enrollments) together in a single schedule. Clients can book using an existing pass or purchase a new one.
Staff List widget: Displays your choice of staff members, along with the public bios and photos entered on the staff profile screen in your MINDBODY software.
Follow the remaining steps to customise your chosen widget.
Step 3
Once you're happy, copy the embed code provided by Mindbody.
Embed a Mindbody widget on your website
Step 4
Create or go to any page.
Step 5
At the "Main Content" label, click "Add content".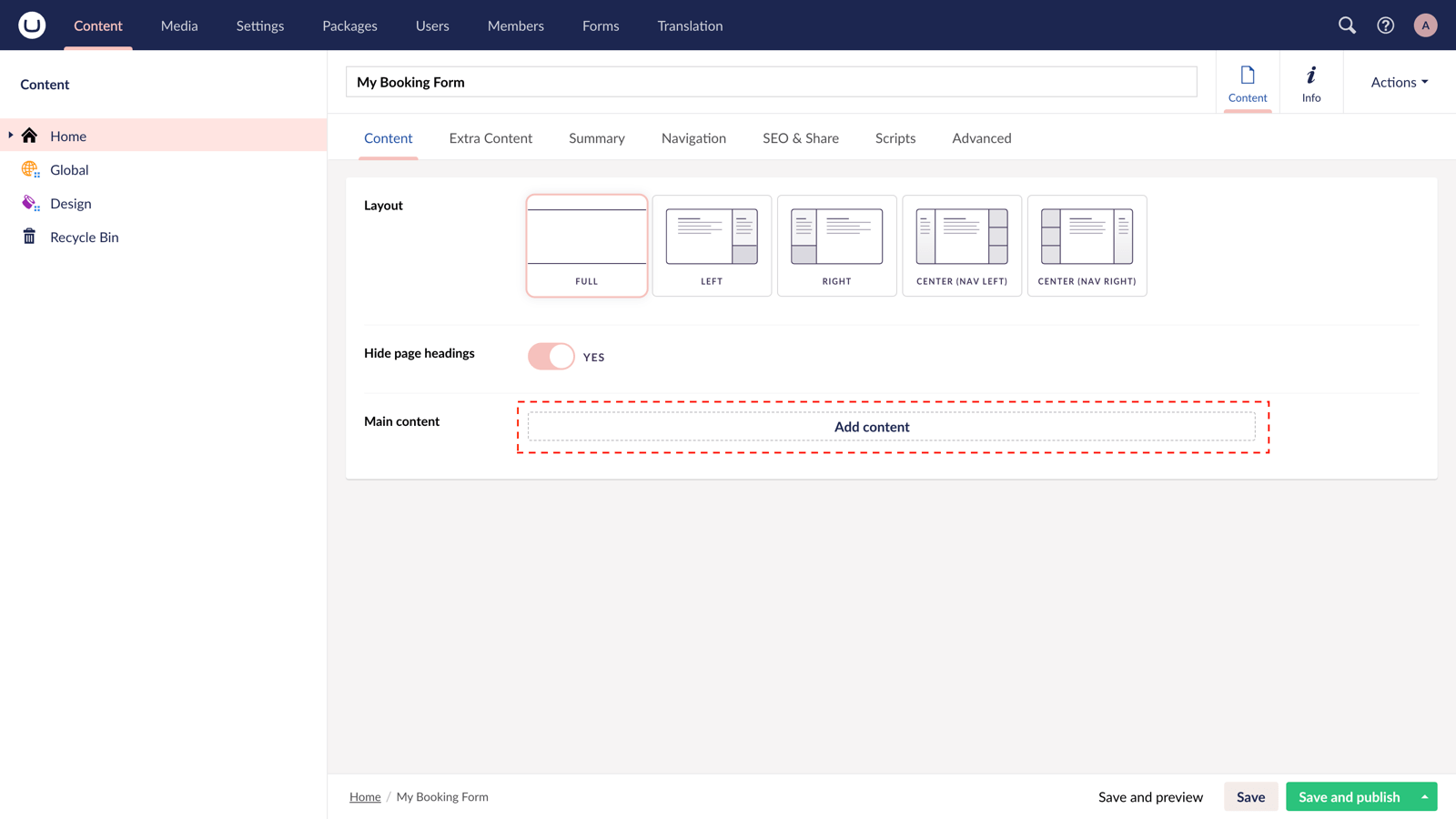 Step 6
From the options in the slide-out panel, select the "Embed code" block.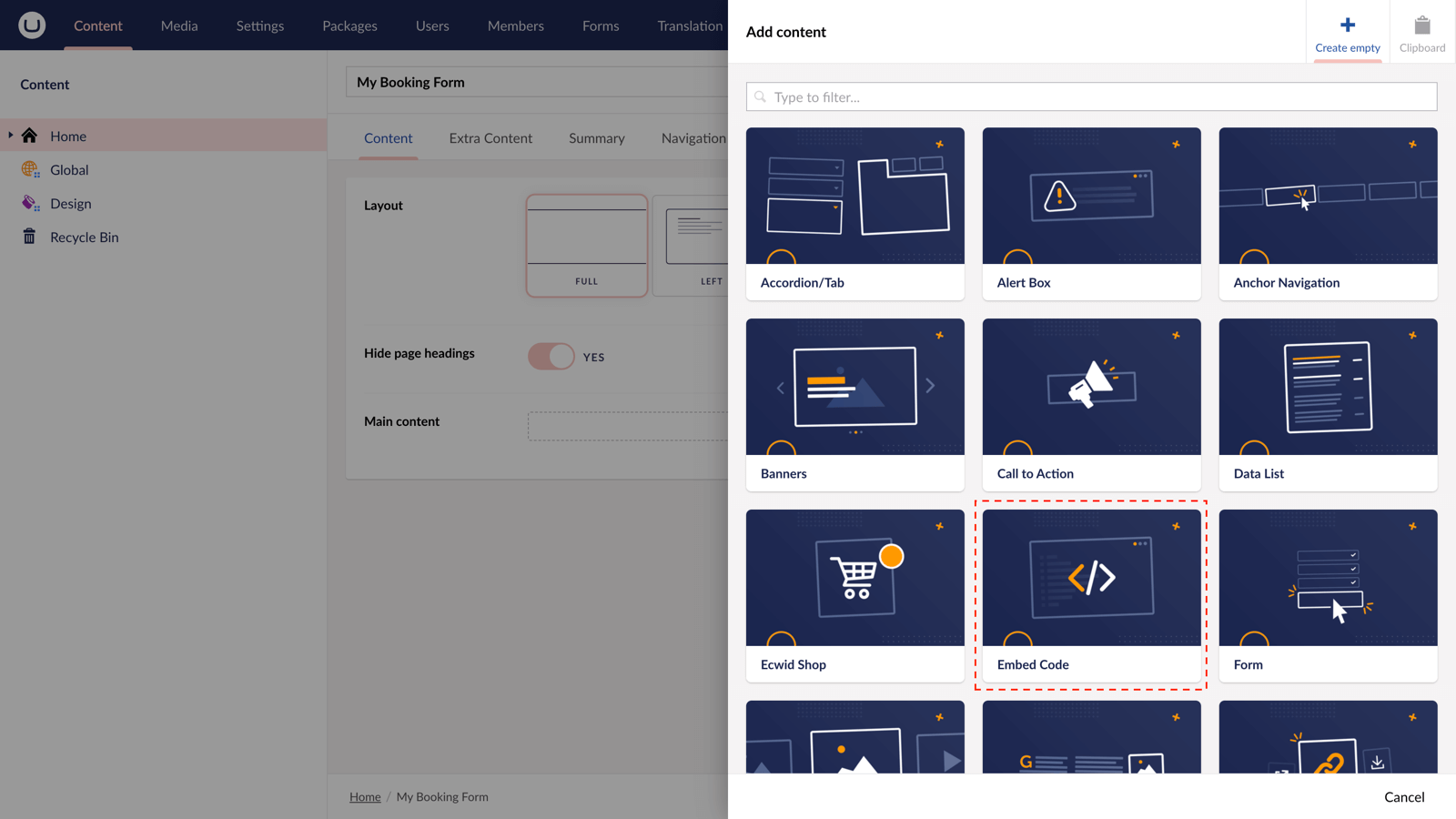 Step 7
Paste the embed code you copied in Step 1.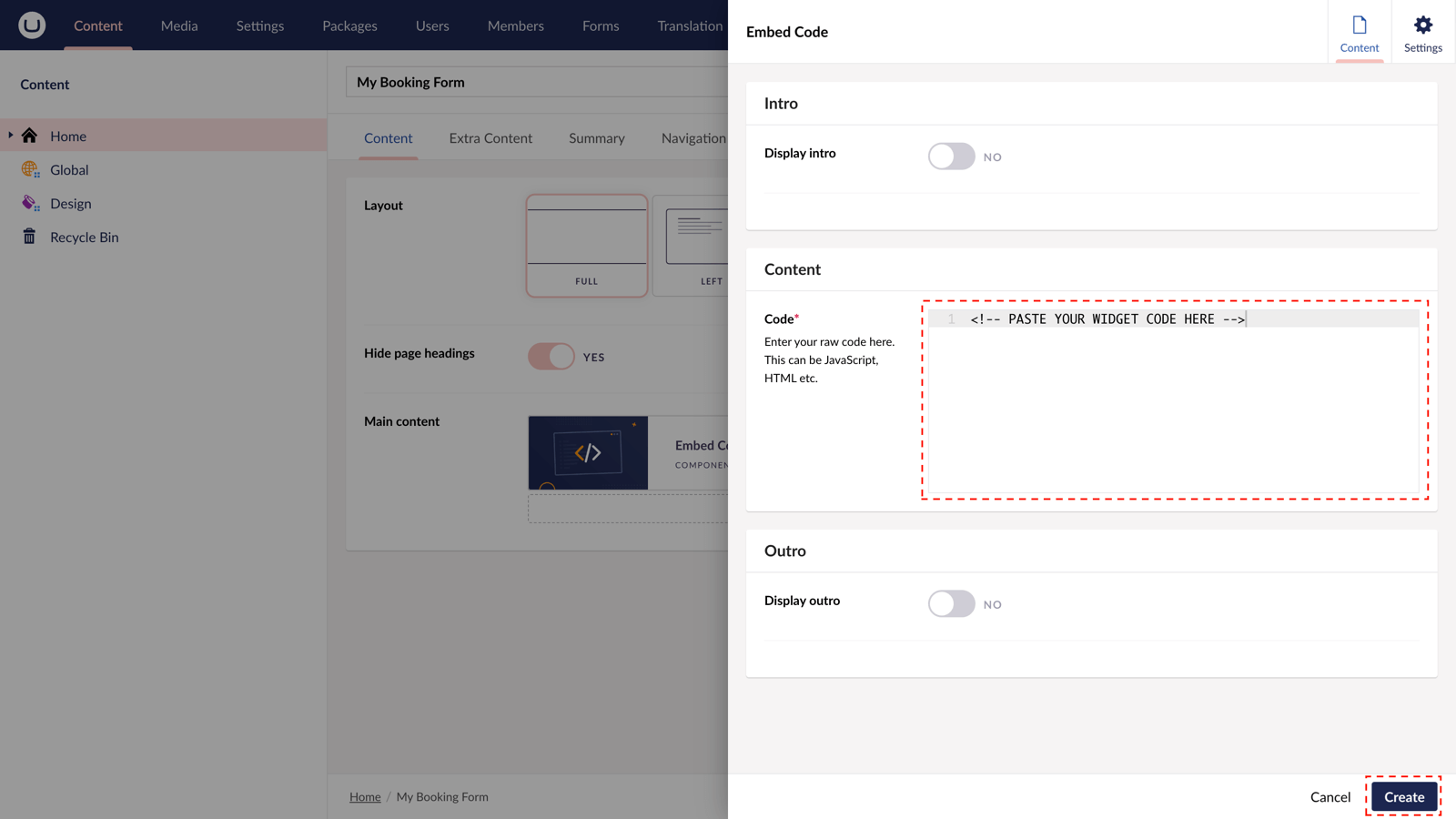 Step 8
Hit "Submit" in the slide-out panel.
Step 9
Now, "Save and publish" your page. 
Your Mindbody widget is now active on your uSkinned-powered website. 
More ways to add Mindbody widgets
There are a variety of places you can embed Mindbody widgets on your uSkinned Site Builder website.
You can try this out using the same steps for:
— Pods component > Embed Code
— Split component > Embed Code block
— Global components > Embed Code
— Global pods > Embed Code
— Extra Content pods > Embed Code
— Footer pods > Embed Code
Remember you can follow these methods for just about any other third party widget your website requires! :-)