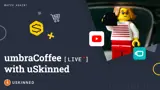 Marc and Paul chat with Marcin from umbraCoffee.
Every Friday, the umbraCoffee hosts - Marcin and Callum - sit down with guest(s) to discuss the weekly news and all things Umbraco related.
This week, our founders, Marc and Paul, joined Marcin to discuss all things Umbraco and demo our latest release, version 4.1 of uSkinned Site Builder for Umbraco CMS. 
So grab a coffee or grab a cuppa, join us and enjoy...