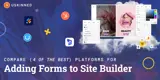 Explore some of the top form providers for uSkinned: HubSpot, Dynamics 365, Umbraco, and JotForm.
Introduction
Choosing the right form provider is crucial for enhancing user experience and managing data efficiently on your website. With uSkinned Site Builder, there are a varierty of form providers to choose from, each with unique strengths and features.
Today, let's explore four of the popular choices: HubSpot Forms, Microsoft Dynamics 365 Forms, Umbraco Forms, and JotForm, to help you determine the best fit for your needs.
HubSpot Forms: The Marketing Powerhouse
HubSpot Forms are integral to the HubSpot suite, accessible at any subscription level. Known for their robust data capturing capabilities, these forms integrate seamlessly with various HubSpot assets for enhanced marketing strategies. They offer multiple integration methods, including the default form module, custom form modules, HubL tags, and form embed codes, catering to different use cases. The versatility and integration with HubSpot's powerful marketing tools make them ideal for data-driven marketing initiatives.
For detailed integration steps, check out our HubSpot Forms guide.
Microsoft Dynamics 365: The Enterprise Favourite
Dynamics 365 forms excel in designing and publishing landing pages, suitable for large organisations with complex data management needs. These forms can be embedded on external websites or hosted on portals, providing flexibility in implementation. They support extensive customisation through CSS, layout, and style settings, and feature form prefilling for known contacts, enhancing user engagement and submission rates. This makes Dynamics 365 forms a robust solution for enterprise-level customer relationship management.
Learn more about embedding these forms in our Dynamics 365 guide.
Umbraco Forms: The User-Friendly Option
Umbraco Forms are lauded for their intuitive user interface, making form creation as easy as editing content. They support a range of input types, validation rules, and conditions, offering a seamless integration experience within the Umbraco CMS. Advanced workflows, like sending emails or saving data in CRM systems, are also supported. With built-in reporting tools and easy data export options, Umbraco Forms are ideal for smaller teams or individuals seeking efficient and user-friendly form solutions.
Our Umbraco Forms guide provides comprehensive instructions for setting them up.
JotForm: The Versatile All-Rounder
JotForm is known for its extensive collection of form integrations, constantly evolving to meet diverse needs. Its standout feature is the integration with Zapier, allowing automatic syncing of form responses to various systems, thereby streamlining workflows. JotForm's adaptability and flexibility in form customisation and integration make it an excellent choice for a wide range of online form requirements, from simple to complex.
To integrate JotForm effectively, refer to our JotForm guide.
Conclusion
Each form provider for uSkinned offers distinct advantages. Whether you need a form integrated with powerful marketing tools, robust enterprise solutions, user-friendly interfaces, or versatile integration options, this list range caters to all. Understanding the unique features of each provider will help you select the one that aligns best with your website's needs and goals.