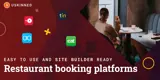 Comparing Restaurant Booking Platforms for uSkinned Site Builder: OpenTable, ResDiary, Tablein, and Eat App.
Introduction
Choosing the right restaurant booking platform is crucial for enhancing customer experience and streamlining reservation management for your venue. With uSkinned Site Builder, integrating various booking platforms is straightforward.
Today, we compare four popular choices: OpenTable, ResDiary, Tablein, and Eat App, to help you determine the best fit for your needs.
OpenTable
OpenTable is renowned for its comprehensive online reservation capabilities, ideal for restaurants, bars, and cafes. Its integration with uSkinned is quick and enables customers to make reservations directly from your website. The process involves creating and embedding an OpenTable widget into your uSkinned Site Builder website. This widget is customisable, allowing for a seamless integration that matches your website's aesthetic.
For more information on integrating OpenTable, check out this guide.
ResDiary
ResDiary is an excellent choice for bars, restaurants, cafes, pubs, and clubs. It not only handles online booking and ordering but also offers loyalty programmes. Embedding the ResDiary Booking Widget into your uSkinned website is a straightforward process. This integration unlocks the full potential of your venue by enabling efficient management of reservations directly from your site.
Refer to this guide for step-by-step instructions on adding ResDiary.
Tablein
Tablein is an optimal solution for managing online table bookings 24/7. It is particularly effective for venues managing multiple restaurants under one account. The integration process with uSkinned involves creating and embedding a Tablein widget. This widget allows for efficient viewing, adding, editing, and managing reservations, providing a comprehensive reservation management tool for your website.
For more details read our guide on how to integrate Tablein.
Eat App
Eat App offers an end-to-end dining experience solution, suitable for restaurants, food and hospitality groups, and hotels. It includes features for reservation management, marketing, reviews, and payment suites. Integrating Eat App with uSkinned involves creating an embeddable widget and adding it to your site. This integration enhances the reservation process, providing a full-suite solution for managing the dining experience.
Visit our guide for instructions on adding Eat App.
Conclusion
Each of these platforms offers distinct advantages. OpenTable is notable for its comprehensive online reservation capabilities, while ResDiary provides additional loyalty programmes. Tablein excels in multi-restaurant management, and Eat App offers a broad spectrum of dining experience management tools. Depending on your specific needs — whether it's a user-friendly interface, integration with powerful marketing tools, or comprehensive reservation management — each of these platforms can be seamlessly integrated into your uSkinned Site Builder website to enhance your customer's experience, streamline your operations, and ultimately, serve more diners.